No fancy intro here.  Four observations from your humble and unreliable correspondent.
Lets get to it…
1.  Finally something to watch on Thanksgiving
Best pick of the night belonged to the Detroit Lions.  Hands down.   My favorite pick.  The most entertaining thing to watch in all of football is a dominating defensive tackle (see Suh's performance against Texas in the 2010 Big XII title game and Fairley in this year's National Title).  The goat of previous drafts, the Lions have hit 3 home runs in recent years with Calvin Johnson, Ndamukong Suh and now Nick Fairley….with a foruth pick that could make it a grand slam should Ciaran man-crush and ceiling poster boy Matty Stafford ever prove not to be made out of beautiful fine crystal.  That aside…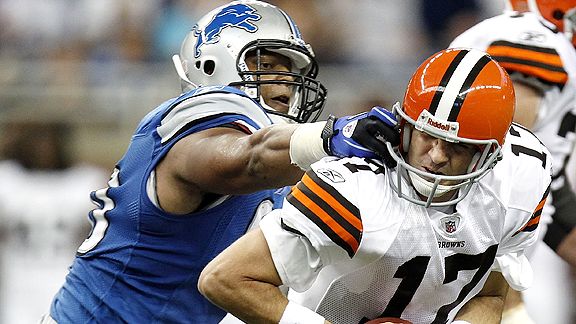 What the Lions have done is created the foundation for defensive dominance and an identity.  Defensive tackle is the most disruptive position on the field….it opens up an edge pass rush, "cleans" your linebackers and gives you penetration and push up the middle.  The Lions now have, potentially, the greatest pairing of defensive tackles since the 49er teams of the early nineties, who boasted the combination of  Dana Stubblefield and Bryant Young .
Yeah…those teams won some games.
By pairing these two animals (make no mistake, these two are relentless, intimidating and ferocious) with an already strong defensive front, the Lions have guaranteed that none of the offensive-line challenged teams in their division will have any success running the ball.  America, the Lions now have swagger.  Consider this, an aging Kyle Vanden Bosch and relative unknown Cliff Avril combined for 12.5 sacks last year (to go with Suh's 10 sacks from the interior).  All the Lions need to do now is add some  speed to the edge rush and their defensive will skyrocket into the league's elite.
Something else to consider… save the obvious talents of Aaron Rodgers and Adrian Peterson, the NFC North is severely lacking offensive firepower and boasts some serious weaknesses. The Bears have a terrible offensive line and suspect QB play, the Packers line (despite winning the Super Bowl) and running game almost cost them a playoff spot last season, and the Vikings have offensive line and QB issues. Take heart Lion's fans….your team is now positioned to be contenders in the NFC for a long time to come.
2. Atlanta wants to win now
The Falcons gave up the kitchen sink to move up, but, like the Lions, they saw an opportunity to pair one star (Roddy White) with the potential of another.  As a fan, I love to see a team make aggressive moves to position themselves for a run when they realize what they have.  The San Diego Chargers could learn a thing or two by this move. Matt Ryan, Michael Turner, Tony Gonzales, Roddy White and Julio Jones.  Name me one other NFL team with a skill position set like that?
3. Belichick breaks one off in New Orleans
Belichick – playing Chess.  Per usual.  I honestly believe the Hooded One enjoys the draft more than game days because he simply dominates it.
Every year New England seems to convince everyone in the NFL of their intentions, only to sucker a first round trade out of someone else for that particular player.   This year, it was Mark Ingram and the Saints.
Do not misinterpret this as hating on the former Heisman winner.  Ingram will be a fine NFL running back…probably a 1,100 yard guy who will have some nice years…but so will a yet-to-be-named back drafted in the sixth round.  Running backs are everywhere.  Ask Danny Woodhead.  You dont give up a second round pick and future first round pick to grab one 28th overall.  Silliness I say.
4. Kansas City drafts the 2011 version of Mike Mamula
6-5    230 lbs    42″ vertical     4.49 40 yard dash
Combine freak.
Here is the quick Mamula story.  Undersized at DE, he recorded 17 sacks in his career at BC, but out benched most linemen and even out ran a lot of linebackers at the combine.  The Eagles traded up with Tampa Bay to grab him.  He had a modest career, recording 30 sacks in 5 seasons.  Meanwhile, Tampa parlayed the added picks into Warren Sapp, Derrick Brooks and a Super Bowl Title.
This happens every year.  Some team with a lot of pressing needs falls in love with a workout warrior and takes him. Maybe I am wrong on Baldwin…however, if you were like me (avid football fan – to the point of obsessional), and your first response to the pick was "who?"  This is usually not a good sign, especially if you consider those freakish measurables and that weak-ass conference.
His production should have been off the charts instead of slightly above average.  Baldwin should have been a household name.  My guess?  NFL corners eat him up and the Chiefs are left wondering why in the hell they did not draft Jimmy Smith.