Congratulations, Valdosta. Winning this ESPN contest is quite an honor, I suppose. For those of you that don't know, around 50% of my family is from Valdosta, and still down there. I've spent a lot of time 'round dem parts, and still make it down around two times a year. Despite that, and my knowledge of the area's remarkable sports history, I was still rather surprised when I heard they'd beat out places like Boston, Chicago, New York, Los Angeles, Chapel Hill, Green Bay, and so on to win this whole TitleTown thing. I figure that means that the detached, purely objective observer, as you likely are, is extremely surprised. Well, assuming that's the case, I felt it would be a pretty good time to drop a little Valdosta/Lowndes County knowledge on ya…
Valdosta's ace in its pursuit of the TitleTown crown was its high school football history and tradition, particularly that of Valdosta High School. Valdosta is the winningest high school football program in the nation, and I suspect by far. Dating back to 1913, their record is 838-191-34. That puts the Wildcats as not only the most successful high school football team in the country, but apparently also the 3rd winniest football program of all time, at any level. Only the University of Michigan and Yale have more wins, and both predate Valdosta High by 30+ years of football.
Valdosta's head coach at the time, Mike O'Brien, had this to say about the program back in 2001:
"Our program is 86 years old, and has been through 12 head coaches. We have only been below a .500 winning percentage five out of the 86 years. We have accumulated 39 region championships, 23 state championships, and six national championships. Here is a little fact to help you better understand how tough our region is. A team from our region has either won or played for a state championship 40 times in last 52 years. Valdosta is the winningest high school football team in America. Our record is 782-160-33. To put that into a better perspective for you, we could lose every game for the next 60 years and still have a winning percentage above .500. Of course if this were to occur I would no longer be the coach." A telling statement, I'd say.
Okay, well, wins are great, sure, but TitleTown, the name itself, suggests championships, right? No worries. Valdosta has plenty to spare.
'20, '40, '47, '51, '52, '53, '56, '57, '60, '61, '62, '65, '66, '68, '69, '71, '78, '82, '84, '86, '89, '90, '92, '98
That's 24, in case you weren't counting, with only the first 8 coming in a classification lower than the state's highest.
Then of course we have the Lowndes County Vikings, Valdosta's arch rival. I'm sure they played a part in landing the TitleTown honor. Lowndes may not have the history of Valdosta, but they've certainly been more dominant as of late, with State Championships in '80, '99, '04, '05, and '07, all while in Georgia's highest classification for high school football.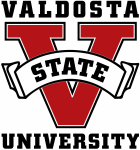 But wait, there's more. Moving up to the college ranks, the town boasts the Valdosta State University Blazers, Division II football national champions in '04 and '07, runners-up in '02. VSU also has D-II titles in Tennis ('06) and Baseball ('79).
So yeah, if you were just totally taken aback by some, relatively small, relatively anonymous, South Georgia town's victory in this little ESPN contest, hopefully the above bits of trivial knowledge will at least provide you with a somewhat reasonable basis to understand what 29% of the country was on about when they cast their vote for Valdosta.